Jazz 24 Hour Call Package
The Jazz 24 Hour Call Package costs Rs. 21.51 for the duration of the package, which grants the user access to 500 minutes of voice time and 50 megabytes of internet bandwidth. You can subscribe to it by dialing *114*4#.
jazz call packages daily 24 hours code Take advantage of 500 minutes of jazz to jazz and 50 MB of internet bandwidth for a full day. Jazz has, since the company's inception, been an integral part of offering its valued consumers amazing call offers.
Users of the jazz 24 hour call package code, in addition to users of other packages, have expressed happiness with this jazz 24-hour call bundle. Also check the Jazz Call Packages 55 Rupees
Jazz Call Packages Daily 24 Hours Code
Jazz + Warid 500 Minutes
Internet: MBs 50 
Validity: 24 Hours
Price Rs. 21.51
Call Setup Charges: Rs. 0.15 
Subscribe Code *114*4#
Unsubscribe Code: *114*4*4#
Bundle Information Code Dial *114*4*3#
Check Remaining Minutes and MBs Code Dial *114*4*2#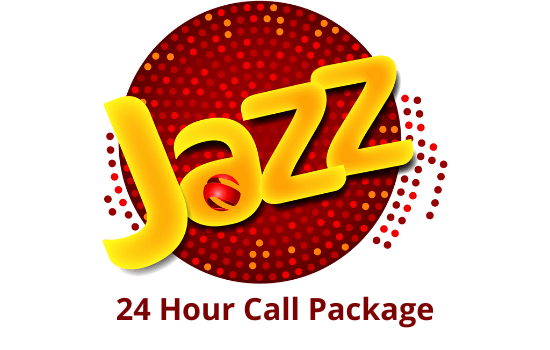 Super Jazz 24 Hour Call Offer 2 :
The Jazz daily call package code costs Rs. 17, and it includes 300 free on-net minutes. To sign up for this Jazz 24 Hour Call Package, please Code dial *212# on your telephone keypad.
You can find out the remaining information status for that by dialing *212*3#, and if you want to cancel the package, you can do so by contacting *212*4#. If you want to find out the remaining info status for that, dial *212*3#.
How to Subscribe jazz 24 hour package?
24 hours jazz call package subscribe dial *114*4#
You may learn about all the Mobilink deals, including free on-net and off-net minutes,
Free SMS, and free internet MBs, by going to the Jazz Call Packages website.
We have explored 24 hours call package jazz so far! You can take advantage of this offer by subscribing, and then you'll be able to talk for free to whomever you like from your group of friends and relatives.
How to check remaining minutes and mBs code?
Simply entering the following string into your phone's keypad (*114*4#) will provide you with detailed information regarding the incentives of your call bundle that are still available. However, if you would want details regarding the deal, please dial *114*4# on the dial pad of your cell phone.
Terms and Conditions:
Available exclusively for individuals with prepaid accounts.
This call offer has a cost that must be paid in order to set up the call.
All 2G, 3G, and 4G devices are capable of using the data.
Always use a SIM card that has been authorized by the PTA.
In the event that you have any issues, please go to the merchant,
Shop, or franchise location that is closest to you.
Only available for a limited period
Disclaimer: This offer is subject to change at any time *
The daily bundle is automatically renewed each day when its supply is about to expire automatically.
To check your account's balance, call *111# and pay RS 0.24. (tax inclusive)
For any more inquiries, the decision 111 helplines for RS. 2.39 are available (tax inclusive)
On recharges and bills, the withholding tax due on July 14 will apply.
For reviving, a service fee of 50 and working expenses of 50 are applicable, and 19.5 percent is encouraged for use in Punjab, Baluchistan, and KPK.
On energizing, there are service charges that amount to 5.06 percent and operational costs that amount to 5.06 percent.
There are eighteen FED that is applied to Sindh utilization.
Costs for services amounting to 5.04 percent and fees for services amounting to 5.04 percent are payable for recharge,
Whereas charges amounting to 18.5 percent are applied for use in the rest of Pakistan.
Prices in Sindh are expected to be 1.27 percentage points higher than those in other locations.
The increase in prices will be 0.84 percent greater across the rest of the Islamic Republic of Pakistan, with the exception of the provinces of Punjab and KPK.
Jazz daily call package (FAQs)
Fee for Subscription: 14.5 Indian Rupees (Incl. Tax)
Validity of Subscription Code *340# on the Same Day till Midnight