Telenor Full Day Offer 2023
Telenor Full Day Offer costs Rs 13 for a day's worth of calls and data. *5*250# is the code to get 50 MBs of data for 1 day plus 100 MB of WhatsApp and unlimited on-net minutes. On this page, you'll find all of the pertinent details. This year, Telenor gives its customers a unique New Year's present.
Subscribers to this plan can make 500-minute on-net calls for free. Also included are 500 one-day-only Telenor-to-Telenor minutes. The package name Telenor Full Day Offer makes it apparent that its validity is limited to one day, and it will automatically expire at 12 a.m. local time on that day. In your opinion, how helpful was this package? Please tell us what you think in the comments section below.
Telenor internet packages Daily 24 hours
There is little doubt that the Telenor internet packages Daily 24 hours a would appeal to customers looking for a comprehensive deal. The hunt is over since we've got a wonderful deal for you right here.
In this presentation, you'll get more than you bargained for at a fraction of the cost. An Internet and phone package. This package combines the benefits of two separate incentives into one. As a result, take a look at the table of contents provided here. Also, check the telenor new sim offer
Package Full Day
internet 50 MBs
WhatsApp 100 MBs
ON-Net Unlimited
Validity  1 Day
Expire Time Mid-Night
Price Rs, 13 + Tax
Code *5*250#
Helpline: 1700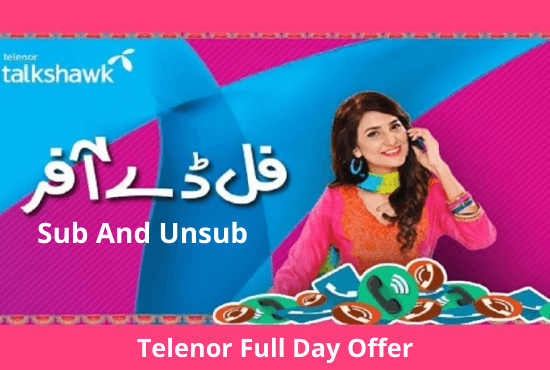 How to unsubscribe Telenor Full Day Package?
Send Unsub to 6006. Users are entitled to 500 on-network minutes per day until 12 AM (midnight) under the FUP* (Fair Usage Policy). There's a good reason why this incredible deal was chosen. As we can see, all other networks offer maximum packages with varying rates based on the number of calls, SMS, and data they supply.
Their monthly fees, on the other hand, are prohibitively high. However, there are no subscription fees for this 24-hour offer. As a result, this is the best deal available. Remember that the "full-day" bucket requires (charges) Rs 0.13 paisa + tax in the form of "Call Setup" charges for the duration of the call.
It indicates that officials will deduct 0.13 paisa from your prepaid account every time you use your unlimited (Telenor to Telenor Call Package) Minutes bucket.
Terms & Conditions
Telenor 1 Day call package
For a limited period, you can get this deal.
This deal will expire in one day.
The promotion has expired and cannot be reactivated.
Changes can be made by the business.
Subscribers must have a Telenor SIM card.
When the clock strikes 12 o'clock, it automatically ends.
If you decide to renew it after it expires, you will be the one to do it.
The cost of each phone call will be 12.5 paisas, plus applicable taxes.
You can make as many calls on the same network as you like.
Other rural areas may not be subject to additional fees or taxes.
Offers can be canceled at any time by the network.
Telenor Full Day Package (FAQs)
How can I subscribe to Telenor full day offer?
In order to subscribe, please dial *5*250#.
This offer is available to any and all customers who are currently subscribed to a price plan or package provided by Telenor. This deal will remain active until the clock strikes midnight on the day that it is subscribed.
What is Telenor daily offer?
To subscribe to this deal, dial *345*7#; the offer is only available for the next 24 hours. The Telenor Full Day Package costs PKR 13 for a single day and includes unlimited on-net calls, 50 MB of internet for any internet usage, and 100 MB for WhatsApp in addition to other internet features. For subscription, call *5*250#.
What is Telenor * 66 offer?
Get a customized and individualized bundle, and you'll be free to do MORE and more! Simply dial *66# or go to the MyTelenor App right now.
How can I activate Telenor 6 to 6 day?
The Weekly 6 to 6 Offer from Telenor provides you with the best-in-class 4G service,
with faster download speeds and more economical rates.
Internet 4000 MB.
Seven days of validity (6 AM – 6 PM)
Dial *71# Error. It appears that something went wrong.
Which Telenor package is best?
650 per month with the Easy Card.
Social All-in-One Package available for 540 rupees included. 130 rupees, including.
SMS Package Delivered Daily. Included in this price is.
The Weekly Easy Card Plus costs Rs. 180 total, which includes.
The Weekly Easy Card costs 160 rupees and includes.
Included in the price of the Mega Plus Weekly Easy Card are.
3 Day Hybrid Package. 45 rupees, including.
Monthly Easy Card costs 850, with an included Rs. 720.