Zong Weekly Internet Package Rs 75
Zong weekly internet package is Rs 75 and includes 100 GB of continuous internet use for 2G/3G/4G users between the hours of 1 AM and 9 AM. The step-by-step subscription process for the weekly offer of 75 rupees is outlined in this section.
You can activate the Zong Weekly Internet Package for Rs 75 bucket by dialing *808#. Only those who are passionate about the internet will appreciate this one-of-a-kind curated package. Access to social media apps, complete downloading and uploading and staying online and up to date for seven days are all included in a subscription that costs 75 rupees.
The question that needs to be answered, however, is "what is the genuine name" of the Zong 75 rupees package, as well as where exactly this bucket might be used. On this page, along with the activation code and the required load, you'll find all of these answers as well as any other pertinent information.
Zong 75 Rupees Package
With the (Mega Data) Zong Weekly Internet Package for Rs 75, you may get 100,000 MBs of Zong 4G data to use over the course of a week. You will need to enter the code *808# in order to take advantage of this promotion. Zong App is another popular option for people looking to activate buckets of this kind. Also check the stay at home bundle code
Offer Mega Data
Internet 100 GB
Internet 3G/4G
Timing  1AM 9 AM
Validity  7 Days
Code *808#
Price: Rs 75
Load: Rs 100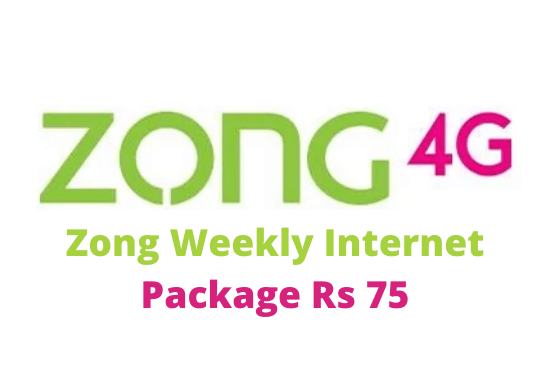 Zong 75 Rupees Package
The 3G/3G/4G data plan that costs 75 rupees and includes 100,000 megabytes is the only one of its kind. The actual Zong mile-stone achievement performance that is being generally recognized by consumers of telecom SIM cards in the most recent few days is the company's ability to provide such a gigantic amount of data at a low charge.
Due to the enormous data amount, access to the internet is restricted around the clock. It is important to note that the data connection (access) provided by the Zong Weekly Internet Package Rs 75 is only valid for one week and runs continuously from midnight to nine in the morning.
Zong Weekly Internet package 100 GB
In its most basic form, the Zong Weekly Internet Offer Rs 75 is a "Mega Data" bundle that is well-known among all Pakistani users due to the low cost of the plan. You may also search for this package using the term relating to its actual name, or you can click here to go to the official website and receive an overview of this package there.
You have the opportunity to win prizes and benefits from Zong administrators by using this bucket. The method that must be followed in order to take part in the competition to win is to subscribe to the 100GB package using the ZONG App and check its remaining incentives on a daily basis in order to increase the likelihood of winning.
TERMS AND CONDITIONS
Every recharge is subject to the Advance Income Tax (AIT), which is currently set at 15%.
A FED of 16 percentage points is applied to consumption ( where applicable).
A goods and services tax (GST) equal to 19.5 percent is imposed on usage (if applicable).
Zong Weekly Internet Offer Rs 75 (FAQs)
How can I check usage details?
By phoning *102# (Charges 10 Paisa+Tax per inquiry)
How can I subscribe Zong 30GB weekly?
*102# is the Offer Status Code, and it costs 10 Paisa plus tax for each query.
Send the code "UNSUB nswp" to 6464 to unsubscribe from the newsletter.
Is there any download limit on this offer?
The client can download as much content as they like up to the volume limit of 2 GB before it expires.
How can I activate Zong 25GB?
The Zong Super Weekly Max plan gives you access to 25 GB of data, of which 10 GB is dedicated solely to YouTube. Simply dial *220# to sign up right away!
Can I subscribe to DTO & GNO along with this offer?
Yes, it is possible to subscribe to it with any of the bundles.
How can I activate Zong weekly package?
The Super Weekly internet bundle gives its clients a volume of internet access equal to 2 GBs for a period of one week at a cost of just Rs 100+ax. To subscribe, dial *6464#, and to check how much data you have left, dial *102#.
What are the charges after 2GB mobile internet volume is consumed?
The out-of-bundle pricing of 1 rupee plus tax per megabyte will be in effect until the bundle's expiration date, after which consumers will be switched to their respective base tariffs.