Jazz Monthly Super Duper Plus
Jazz Monthly Super Duper Plus costs Rs. 977 and comes with 20 GB of data, 5,000 Jazz minutes, 300 Other-Network minutes, and 5,000 SMS (Incl. Tax). This Offer can only be used once. If a customer wants to use it more than once, they will have to dial *707# again. Also, check the Jazz Whatsapp Package Monthly Rs 60
How can I subscribe to Jazz Monthly Super Duper Plus Max?
Jazz has released the Jazz Monthly Super Duper Plus Package, which includes 20 GB of data, 5,000 text messages, 5,000 Jazz minutes, and 300 minutes for other networks. This package is good for one month (30 days). You can get a lot of data, SMS, and minutes for just RS. 977/= by dialing its subscription code, *707#. (Inc. taxes).
Jazz Monthly Super Duper Plus Code
On-Net Minutes 5000
Off-Net Minutes 300
SMS 5000
Internet 17 GB 
Validity 30 Days
Subscribe Code *707#
Info Code *707*3#
Jazz Monthly Super Duper Plus Check Code
Jazz Super Duper Unsubscribe Code
Jazz Monthly Super Duper Plus recharge required
Recharge Required: Rs 1099.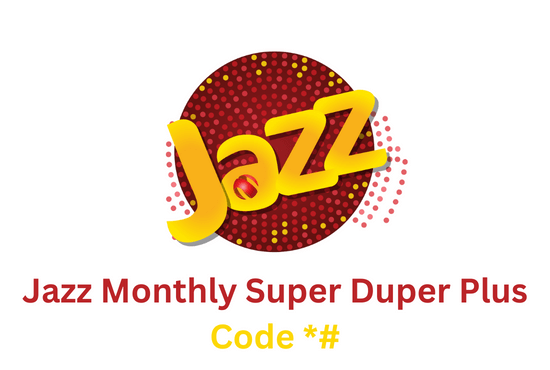 Terms & Conditions:
The monthly Super Duper Plus Offer can only be used once.
If a customer wants to use it more than once, they will have to dial *707# again.
All of the free minutes will be posted when the subscription is made, and they will end at 23:59 on the 30th calendar day.
Free minutes, SMS, and data can be used at any time of day or night (no time limit)
Jazz Monthly Super Duper Plus Offer only for a limited time, It could change at any time.
The free MBs are for 2G, 3G, and 4G.
Every mobile internet bundle has an overage fee of Rs.2/MB.
Actual internet speed will depend on many things, such as sim, device, web pages visited, time of day, number of people using the internet at the same time, distance from 2G/3G/4G site, etc.
If you don't have a plan, you'll be charged the base rate, which is Rs.5/MB.
The pulse charge will be 512 KB.
This bundle doesn't have any charges for setting up a call.
To make calls through a bundle, you must keep at least Rs. 0.15 in your account.