Zong Pubg Packages Daily Weekly Monthly
You can play PUBG on Zong SIM with the latest Daily, Weekly, and Monthly Zong PUBG Packages. Each PUBG offer is priced affordably, and it gives you 4G/LTE data so you can play games in Pakistan very quickly. Here, we give a full description of these buckets:
If you have a Zong SIM card and like to play PUBG and other games, then you are in for a surprise. Zong has just released a new internet package just for gamers. All of these packages work for 1, 7, or 30 days, depending on how long they are good for.
Not only PUBG players but also people who just want to use the internet can sign up for these cheap internet packages. However, they can only be used on devices that support 3G, 4G, and LTE. Also, check the Free Fire Top Up Pakistan
Zong PUBG offer code
In this article, we talk about two PUBG offers that happen every day, two PUBG packages that happen every week and one PUBG bucket that happens every month. So, choose the bucket you want and use Zong, the first 4G network in Pakistan, to play PUBG.
All of these internet plans are made especially for using Zong SIM to play PUBG. But you can also use these MBs to look at websites or download and install files on your phone. After subscribing, these MBs stay active for 1 day, 7 days, and 1 month, day and night.
Zong PUBG package daily code
Please type a new message that says "gno" and send it to service code 6464. This will cost you PKR 23 and give you 2,500 MBs to play the PUBG game day and night for 1 day. So, for 23 rupees, you can play this game for 24 hours at 4G speed.
MBs: 2,500
Validity: 1 Day
Price: PKR 23
Recharge Required: PKR 25
Type: 3G/4G
SUB: Send "gno" to 6464
Check-Code: *102#
Zong PUBG package Weekly Code
By dialing *220#, you can turn on the Zong Weekly PUBG Offer and get 25GB (25,000 MBs) of data for 7 days. The only price for this bucket is Rs 340,.
Data: 25 GB
Validity: 7 Days
Price: Rs 340
SUB-Code: *220#
Zong PUBG offer 2022
Zong Pubg Package For Rs 575/-, you can get 20GB (20,000 MBs) of data for 30 days, including 10GB (10,000 MBs) to use from 1 AM to 9 AM. Today, call *3# to take advantage of this offer.
Zong PUBG offer code Monthly
Data: 20 GB
Validity: 30 Days
10GB Timing: 1 AM to 9 AM
Price: Rs 575
SUB-Code: *3#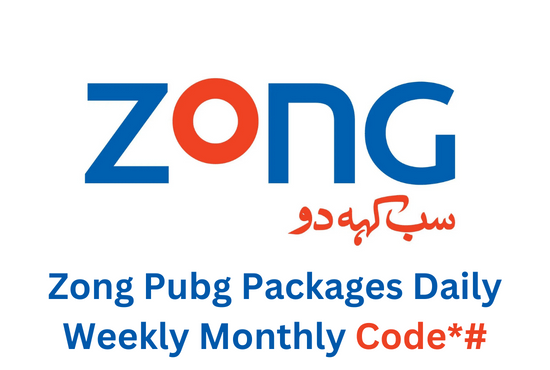 The PUBG game has had a great start everywhere in the world. Now, it's the game that people play the most. But there aren't many players in Pakistan who can play on the international level. But even though there aren't many players, those who are there are competing and taking part in the latest missions.
Zong PUBG package Monthly 100 Rupees 2022
Zong PUBG package Monthly 100 Rupees 2022, you can get 10GB of data for 30 days, 9GB of data for PubG, and 1GB of flat data for 30 days. Send "sub PubG" to 6464 or *7824# to start this offer.
Call *7824# or text "unsub PubG" to 6464 to cancel this offer.
Zong PUBG Package code 100 Rupees
Pubg Data 10GB(9GB Pubg & 1GB flat)
Validity Monthly
Price Rs 100
Code *7824#
How to Check PubG Remaining MBs?
102 Inquiry Service: Call *102# and you'll get a response in 30 seconds.
With 1 for Conclusion
When you use 4 for Free Internet (Disconnect Data session before checking internet resources)
Costs = Rs 0.12 per SMS
Terms & Conditions:
Customers with 3G and 4G SIMs will get data.
The offer is good for all Zong 4G prepaid customers and gives you 1GB of internet that you can use anywhere.
The PubG game can be played on 9GB.
Customers will get real internet speed if they have a good Zong signal and a phone with a high RAM.
You can turn on more internet packages by dialing *6464#.
To sign up for this package, you need to recharge Rs.100.
Available on My Zong App
Conclusion:
This article will give you the best information about Latest Zong Pubg Packages Daily Weekly Monthly. Please share this New Zong PUBG Daily, Weekly, and Monthly Packages with your family, friends, and their loved ones on Facebook, WhatsApp, Twitter, and Instagram so that they can also enjoy these services.
If you have any trouble or want to know more about this Zong PUBG Daily, Weekly, and Monthly Packages Post, please leave a comment below.